It was never a part of our plan to close down after our first year of business, nor was it to move to Barton Street, however both have been for the best.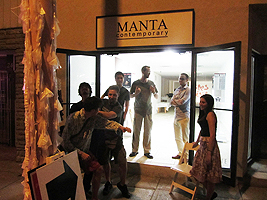 As many may already know, MANTA was originally situated at 51 King William Street. Starting in September 2012, we established a humble but promising beginning.
As nine months passed, we encountered many unexpected problems with the building we were leasing. Despite the growing success of our business, everything from electrical arcing, sewage backup, ceiling leaks, no heating and serious structural issues repeatedly shut our doors. Concerns we were later made aware that the property owner had knowingly covered up before leasing the unit to us.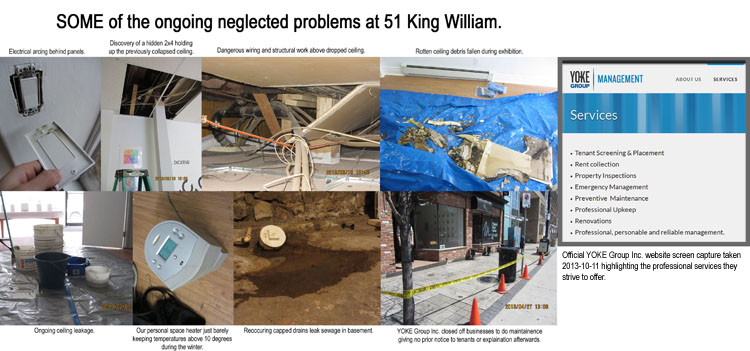 As we addressed the accumulating issues to our landlord, he became increasingly difficult, calling us from blocked numbers and refusing to let us even know his name. On numerous occasions, our landlord threatened to have his lawyers draft documents declaring us responsible for the issues. We were eventually informed that our landlord, Anthony Quattrociocchi, created himself an incorporated company and from that point on we were to report to its office to further discuss the situation, which when we went, was an abandoned building with a disconnected phone number.

Know your rights, and don't be fooled by slick corporate design.
During this time, YOKE Group Inc. and their lawyer claimed that we had refused to allow them to fix the building, which was in no way true. In fact, we were aware that the landlord and his agents were entering the unit when we were not there, without our notice. We decided it would be best for us to temporarily remove our valuables from the unit until the repairs were completed. YOKE Group Inc. then ripped down the sign we had posted stating we would be temporarily closed and advised us that we had told their lawyer that we had agreed to terminate the lease, something they had requested of us, but we refused.
Our lawyer spoke with YOKE Group's lawyer who said he never told YOKE Group Inc anything of the sort and he had attempted to contact Mr. Quattrociocchi but could not get a response.
This is when we posted a public notice in our window asking YOKE Group Inc. to contact their lawyer.
We were then advised by YOKE Group Inc that they would now be locking us out of the unit and we got a video of Mr. Quattrociocchi illegally changing the locks to the unit.
Our lawyer pointed out to YOKE Group Inc.'s lawyer that it was in no way legal to lock us out of the unit. Within the week, we received a cheque for $15,000. However, part of the agreement was for a sign to be left in the window indicating that we had moved and this sign was ripped down soon after. Mr. Quattrociocchi has continuously refused to take responsibility for his actions, in an email response to locking us out and ripping down the sign saying, "Once again my guys didn't listen to instructions". The sign has never been replaced despite Mr. Quattrociocchi agreeing to repost it. Mr. Quattrociocchi now claims the unit was rented but neither he nor the property manager were aware of this until weeks later (July 15th). YOKE Group Inc.'s lawyer said he was advised by his client not to speak on this matter. To this day, the property still remains vacant.
In July 2013, we signed a short term lease at 22 Barton Street East to fulfill our next three exhibitions. Our artists were incredibly understanding, the new gallery space was fantastic and the new landlord, Littler Construction, was refreshingly honest. However, due to the uncertainty of our previous tenancy, our 2014 exhibition schedule had to be postponed until further notice. After having to inform all our future exhibitors of the circumstances, we decided it would be best to end the season early and plan everything out. We apologize to our patrons and art crawlers, we hope to join with all of you again next year with a more permanent home.
WHAT'S NEXT?
It will be sad to miss out on the rest of this year's art crawl. Over the next few months we will be updating our website with archives of all of our past exhibitions and will continue to operate our online store. Also, stay tuned to read the full details about our troubled times on King William. We will likely be in and out of Hamilton working on other artistic endeavours while we plot a bigger and better MANTA for the future.
In the meantime, keep on artcrawling!
THANK YOU
It has been a special honour to join everyone in the artcrawl each month, at both ends! We have been very thankful to exhibit some of the brightest emerging artists from all over the world right here in Hamilton.
Thanks to our vital supporters:
The Ontario Arts Council
Hamilton Artists Inc.
Fetch Guide
Grid Resources
Littler Construction
Barton Street Studio
Family Contact
Hamilton Creative Community
Joyce Swaby
...and all of our talented artists!